Enter production
Views: 1 Author: Site Editor Publish Time: 2019-11-02 Origin: Site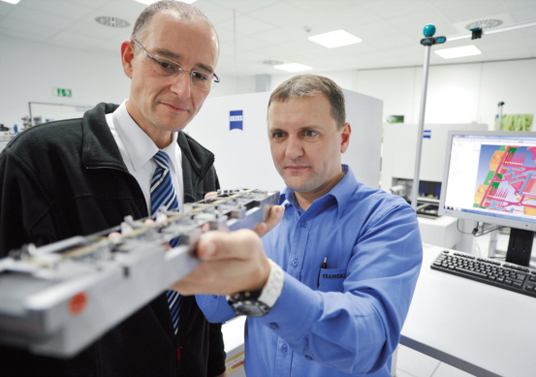 Enter productionConstantly faced with new challenges
Metal and plastic composite parts production industry must be mastered not just these two materials. How to make multi-million euro production systems quickly put into production is the key to success. For this purpose, the German manufacturer of composite parts and stampingKRAMSKI Zeiss company uses a complex measuring machine.
Compound measuring machine accelerates

KRAMSKI company's first article inspection
Challenge: Fast batch measurement
Prior to the adjustment of the mold sufficiently to mass production, it must be measured overParts 100 samples, which KRAMSKI company is a common thing. For each component, it must ensure quality control than 500 features. For the measurement technician, the once make the first set of samples, time would become very urgent. The company's measurement technology team leader Mathias Schlegel said, "The next must quickly deliver a reliable measurement results." After all, time is money. The quicker the measurement results, the sooner mold manufacturing technicians will be able to find it necessary repair mode, and therefore able to start faster millions of euros worth of production systems for mass production.
solution:

ZEISS O-INSPECT 442 complex measuring machine
In such a short period of time to perform these measurements,Mr. Schlegel and his team rely on two sets of ZEISS O-INSPECT 442 composite measuring machine. They enable quick contact and optical measurements on the same measuring machine. "Today, we save considerable time, because we can program the measuring program in the state offline. This is our use of the measuring machine used in the past can not do something." The team leader described as such.
"Our founder proudly say 'you and we can negotiate everything - except the quality of everything', it is not without reason."
Measurement technician team leader Matthias Schlegel
Benefits: save valuable time
There are several reasons to explain the benefits of off-line programming. First, since the measuring machine programming is not occupied and can be used for the other work. ThanksThis ZEISS CALYPSO measuring software can also be programmed directly measured directly in the CAD program. This means may be performed prior to the workpiece measurement program generation. Another benefit of this measuring machine: measuring prototype technician can easily be hundreds of features each comprising respective measurement program generating program 100 or features 150, made of sampling. Simply screening measurement technician essential feature, this measuring machine will automatically calculate the detection path, and thus saves more time KRAMSKI company. As Mr. Schlegel said, "Other measuring machines we've seen, no one can do that."
Company Profile
KRAMSKI
The main specialty of the company is the development and manufacture of advanced technology and composite parts stamping. This family business is headquartered in the town of Pforzheim, Germany, and has offices in Sri Lanka, India and the United States, producing 2.5 billion parts per year. These involve a number of tools in the production of most parts of the company are about 700 employees in-house design and development of products. The company serves customers in all major industries, including automotive, electronics and electronic communications, including medical technology and solar energy as well as consumer products.