Trust bridge measuring machine Zeiss
Views: 1 Author: Site Editor Publish Time: 2019-11-04 Origin: Site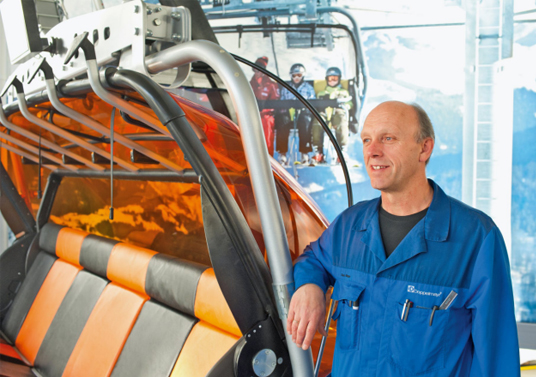 ACCURA bridge using a Zeiss coordinate measuring machine, the world market leader intends to further improve the accuracy of its cable car system, and closely pursued by the company and its corporate culture with 100% quality together.
Doppelmayr trust bridge measuring machine Zeiss
Cable carriage seat eight people, strong wind gusts, and the air a few hundred meters operating altitude: Doppelmayr often encounter ski during extreme demands in the ordinary course of business. It can also be discerned in those huge member Austria Wolfurt from building cable car system. At the top and foot of the cable car station has a large cable guide pulleys, center pulleys member sometimes weighing two tons, is surrounded by four wing-like members.
In the manufacture of such parts, a hundredth of a millimeter precision if the deviation will have significant impact. Deviate from the ideal size does not necessarily mean there is a security risk; however, even a harmless glitch, may also bring a loss of income to millions of cable car operators. Precision pulley center deviates from the ideal shape required no more than 50 microns. If it exceeds this tolerance, the wing-like web member can not fit seamlessly with the central member.
Doppelmayr is an expert in the cable car system. Machinery production supervisor Klaus Meyer showroom in Austria Wolfurt company.
Furthermore, the mounting position of the ball bearing located at the center must ensure concentricity, otherwise, the friction will cause excessive wear of parts, leading to system failure. Therefore, reliable quality assurance has always been a top priority of the company Doppelmayr. Since August 2011, a Zeiss ACCURA II bridge coordinate measuring machine has become a key element in this process. Size reached 2000 x 3000 x 1500 mm, which is sold to one of Austria Zeiss maximum bridge coordinate measuring machine.
Focus on the future of the measuring machine
Zündel select Zeiss, it is due to the close cooperation Zeiss company's good reputation and its Austrian subsidiary, which ensures that they can get a response in a very short period of time when they encounter problems: "" We have maintained with our customers time contact. As a customer, we ask enjoy the same service. "Zündel said. In addition, when necessary, be able to match the corresponding software or optical probe, it is also important to Zündel.
Accuracy is the most important: the machined surface of these components not to deviate from the ideal shape than5 microns.
"Particular requirements for quality assurance and record demand becomes more and more important!"
Doppelmayr Wolfurt is located in the company's facilities manager Karl-HeinzZündel
Doppelmayer attaches great importance to reliable quality assurance.
Accuracy is improved four to five times
Doppelmayr has 100% ACCURA to measure all components related to safety. Measuring machine to complete scanning of the central member and the pulley in a complete CNC operation. Ratio for measuring the position of each bore meets the nominal geometry, check all four dimensions of the machined surface, and measuring the central cylindrical bore. Next, CALYPSO software automatically generates a measurement record.
Additional benefits: significantly reduce the labor required for the measurement, while improving the accuracy of four to five times. In addition, just press a button, CALYPSO measuring software can export documents clearly structured measurement results.
"Once the measurement procedure workpiece form, even if the measuring up to 200 parts, the machine will automatically complete." Doppelmayr working in the quality assurance department Roland Schedler said with satisfaction.
100% quality assurance
However, the accuracy for Karl-Heinz Zündel is not everything: "Using this particular precision measuring machine, we also want to be able to enhance the quality awareness of our entire team must be 100% quality standards."
Measuring machine has been fully utilized - the company is also considering purchasing a second set of measurement system. However, before that, it was the need for a greater measurement laboratory.
Company Profile
Doppelmayr Group is the cable car system is the global market leader in its main factory in Austria and Switzerland Gore Wall Ford Road. Its products include three cable system allows up to 30 passengers shuttling back and forth between the summit and the base of the mountain. 2,200 company employees take advantage of this business generated about 618 million euros in revenue in 2011.