XENOS Zeiss provide reliable quality and accuracy
Views: 1 Author: Site Editor Publish Time: 2019-11-02 Origin: Site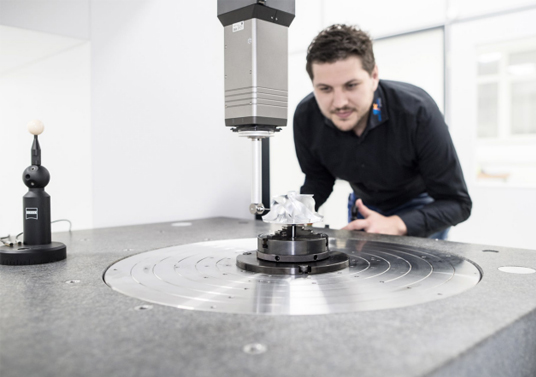 Seize the advantage Zeiss XENOS provide reliable quality and accuracy
Stangl & Co., Ltd. is located in Luoding Ge (Roding) town of Bavaria, the company usually only a few days to manufacture high-precision prototypes, complete small batch production to meet the needs of orders from around the world. Over the past few months, the company has been using Zeiss XENOS, this is a machine that can ensure product quality precision measuring machine. Stangl & Co. became the first European companies to invest in the machine and add to the laboratories and research institutions launched in 2014, Zeiss coordinate measuring machine investment.
Measuring machine using Zeiss end prototyping and small batch quality control
The challenge: measuring load increased significantly
Allows mass production of a plurality of lift control element, to meet such requirements general machinery manufacturers, and from the very beginning, the prototype member of tolerance must be within a predetermined range. Andreas Löffler said: "This makes the manufacturing process make people feel excited, like a mystery, like." He is an industrial engineer Stangl & Co Ltd., responsible for quality and process management. If only within the limits prescribed one aspect out of tolerance, the company will be forced to invest a lot of time and effort to find out the reasons, for example: calculate the interaction of the various parts or make adjustments in other areas in order to eliminate the adverse effects. Löffler said:. "This means a lot of work consumes a lot of valuable development time, if you want to compete on a global scale, you do not have so much time to waste." This explains why over the past five years during prototyping time and resources into measured with respect to increased tenfold. But everything is far more than that. "Trying to record measurements of demand has required consistent with the measure itself."
Zeiss for the first time in the Stangl & Co has developed a turntable for the Zeiss XENOS system
Solution: Use Zeiss XENOS be a reliable measure
In order to prove the workpiece has been manufactured according to customer specifications, Stangl & Co., Ltd. before in the case of very high precision commissioned external service providers. The service provider will use the prototype Zeiss PRISMO ultra Manufacturing machine to be checked. "In general, the process went well, but it limits our flexibility," Löffler said. In order to obtain faster results and outperform competitors in terms of quality assurance, medium-sized Stangl & Co. Ltd. became the first European investment Zeiss XENOS manufacturing company. Stefan Kulzer one of two executive directors of the company, explains, "This makes us in terms of accuracy outset took advantage."
Stefan Kulzer: "prototype accuracy and recording requirements grow exponentially in the past few years."
"During the prototyping time and resources into measured with respect to a substantial increase in the last five years. With Zeiss XENOS, no matter what to do next, we have well-equipped."
Executive Director Stefan Kulze
Andreas Löffler assess a client must meet the aerospace industry component surface extremely strict specifications.
Advantage: Faster difficult to solve
XENOS Zeiss, the error is only 0.3 m length, nearly cubic measurement range. Such precision allows Löffler and his colleagues can determine whether the roundness error is caused by the workpiece clamping. "It makes difficult to solve accelerate and ultimately optimize all processes," quality engineer said. Another function of the system also gives the company left a deep impression: a straight line thanks to the machine's driver, XENOS measurements can be made more quickly. To further speed up the measurement process, Zeiss has developed a turntable for the XENOS. Measuring machine with the additional function quite particularly in Luo Dingge area, so even when highly complex inspection assembly can also reduce the frequency of replacement of the probe. "We have noticed that saved much time for us," Löffler said.
Stangl & Co. GmbH Precision Technology Company
Stangl & Co. GmbH Precision Technology Company was founded by Johann Stangl and Stefan Kulzer in 1988. The company is a core Stangl & Kulzer Group, which provides a complete solution in metal and plastics processing as well as lightweight design. The core competencies of the combined group of companies is a precision technology. The Group's 370 employees, about 80 percent work in the Stangl & Co. GmbH Precision Technology, the company's customers in different industries for the production of disposable prototypes and small series and the workpiece. The two other group companies are: SK Carbon Roding GmbH, the company develops and manufactures high-quality lightweight construction using a special process of reinforcing fibers made of plastic; Roding Automobile GmbH, specializing in the development and construction of functional prototypes and concept cars , which uses a carbon fiber and lightweight design of the electric motor. The company designs and manufactures Roding Roadster by demonstrating its proprietary technology, Roding Roadster is a low-volume manual production of lightweight sports car. 2016, the Group's revenues totaled 35 million euros.