Zeiss-stop solution
Views: 1 Author: Site Editor Publish Time: 2019-11-02 Origin: Site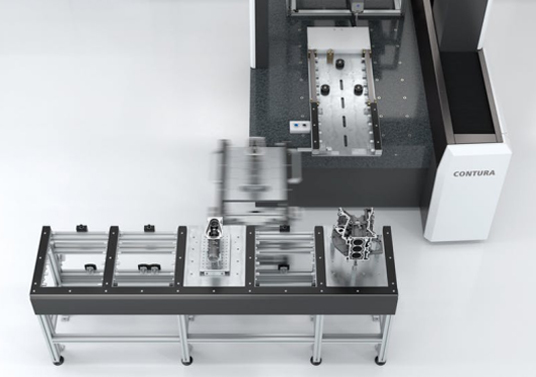 Zeiss-stop solutionThe modular system with unlimited possibilities
Effortlessly

"Placement" of your component
Tray feeding means Zeiss
You must quickly replace the tray to prevent unnecessary downtime. At the same time, we must ensure the reliability and precision. Means for providing feed tray Zeiss: easy measurement position to the workpiece, and then by three position monitoring and penalty socket secure location.
Scroll rather than lifting
From the mounting station to the transport vehicle, and thence to the measurement system and the final measurement positions: at each stage of the measurement process, inspection trays are rotated into place. Compared with manual or crane loading, inspection flow speed and reliability are improved.
Zeiss rotating station is provided
Zeiss rotation setting allows you to stop as quickly as possible has been measured over the workpiece to workpiece still needs to be tested on a measuring machine to be exchanged. After completion of the measurement procedure, the operator will check through the tray from rolling station is provided to the rotating measuring machine, the movable device is rotated 180 °, the workpiece is then pushed to the pre-fixed good measurement position. Replace the tray only a few seconds, which ensures less downtime.
Zeiss shuttle warehouse (

shuttle depot)
Zeiss cartridge shuttle (shuttle depot) is off-line and a plurality of test components required to be placed over the quick position measurement system. It can improve the flexibility, as set and measured workpiece is now two completely separate steps, which allows the operator to use the idle time to prepare a plurality of workpieces or dismantling. Just a few seconds to fix parts - whether you are in what order. You can also quickly move back parts available installation position, and in my spare time to remove it and remove it.
Zeiss Team
Zeiss experts by the interdisciplinary team of independent components, customized specifically for you to develop a comprehensive solution. Joint project planning and application of knowledge makes efficient optimization of system load in the lab or in production possible.
Zeiss inspection and measurement systems
Even in harsh production environments, Zeiss PRISMO can be achieved with high accuracy. Worldwide, CMM is considered synonymous with high-speed scanning and excellent accuracy. Combined optical sensor and a contact sensor or a Zeiss ROTOS roughness further increases the flexibility of the entire multi-sensor system. This makes it possible to effectively collect the size, shape, and surface position measurements on one machine, without re-fixing.
Zeiss works
Process automation engineering including Zeiss, broader sense processing components, and a manual loading system as shown in FIG. Zeiss rotation setting allows you to stop at extremely high speeds have been replaced inspected the work and put the work still to be tested. When mounting and dismounting member, does not hinder the measurement system itself. During measurement, the operator has time to release the member to be inspected, it is removed and a new fixing member, which can significantly increase the yield of the workpiece.
Zeiss software,IT integration and programming
Of course, Zeiss conventional FACS may be integrated into an automated process measurement applications, and frequently 100% random sample detection. Streamlined user interface allows the operator to simply press a button to start running measurement. Zeiss CALYPSO unnoticed in the background operation, to prevent operator errors. Zeiss PiWeb using the graphical display and statistical evaluation and assessment of the measured values.
Zeiss accessories and services
Zeiss stylus changer system can switch the stylus holder and sensor systems on the CMM. This enables you to perform various operations measured in a single measuring run - without re-clamped or moved to a different measurement stations. Zeiss jig, and tray clamping system to ensure repeatable fixation piece.